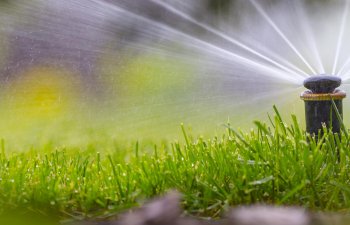 When it comes to your landscape, falling temperatures mean a decline in lawn maintenance demands. The cooler season of winter is a time for your landscape to rest before the blooms of spring. While you can't ignore your lawn altogether during the winter, you can back off on several lawn care tasks, including your irrigation. Your irrigation system won't have to work like it did in the summer months, but you will still need to take steps to protect it during the off-season or the months of freezing temperatures.
How and When to Winterize Your Irrigation System
In general, it's best to winterize too early then too late. The idea is to avoid freezing water inside your pipes, which can seriously damage your spigots, drains and hoses. To winterize your irrigation, you'll need to turn off the water, open the drains and let the water drain out accordingly. Irrigation winterization can be performed manually or with an automatic drain valve method. It is important to know which method is best for your unique system.
When preparing your irrigation system for the winter, it is critical that you address any areas of standing water that could be in or around your irrigation components. Even just one hard freeze in Georgia could cause this water to freeze and break your system. Some homeowners take extra precautions by wrapping their spigots to combat unexpected freezing.
Give Your Irrigation Extra Attention Before Spring
As you winterize your irrigation this season, consider taking the extra time to evaluate your system for malfunction. To ensure your irrigation is in top condition when spring arrives, make any necessary repairs or adjustments now.
For help on winterizing your irrigation or performing sprinkler system repairs in Georgia, call Everlast Lawns and Landscapes. We are Alpharetta's most trusted source for affordable lawn care and irrigation services.
Posted on behalf of Everlast Lawns and Landscapes, L.L.C.
4920 Atlanta Hwy Suite 301
Alpharetta, GA 30004
Phone: (770) 480-2695
Email: everlastlawns@aol.com
Monday – Friday: 8:00 AM – 5:00 PM
Saturday, Sunday: Closed