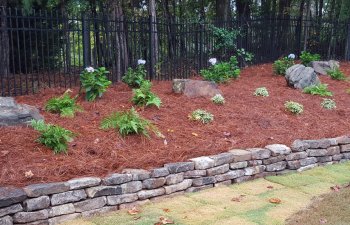 When it comes to improving your home's curb appeal, few things are more rewarding than freshly laid mulch. The rich color and earthy fragrance of mulch instantly creates a clean, attractive and manicured landscape. Not only does a thick layer of mulch provide beauty and contrast to your yard, but it also offers valuable protection towards the health of your plants, flowers and shrubs.
Laying mulch in your yard is not always a simple or straightforward job, and it is certainly not a task that should be done with a one-size-fits-all approach. There are certain things to consider when ordering and laying mulch to ensure you get the maximum return out of your landscaping investment.
Type of Mulch?
Mulch can take the form of bark, wood or straw. It can also come in a variety of sizes and colors. While most of this is a personal preference, there are certain mulch types that are more practical for certain landscapes, such as in terms of preventing erosion or preserving moisture in the soil.
How Much Mulch?
Another tricky consideration is determining the correct amount of mulch that you'll need for your particular space. In general, there is some landscaping math you can follow: multiply the length and width of each bed in feet, total up all the square footage, multiply times .25 (3" equivalent in feet), then divide by 27 (because there are 27 cubic feet in a cubic yard). That number is the amount of cubic yards of mulch that you will need.
Thickness of Mulch?
The thickness of your groundcover or mulch does matter. Too thin of a mulch layer will not stay in place and fail to provide the aesthetic and functional benefits of mulch. Mulch that is laid too thick, however, can suffocate plants and flowers. It is typically recommended that a 3" layer of mulch is the key to suppressing weeds and keeping soil moisture from evaporating.
Need help choosing and installing mulch for your landscape? Call Everlast Lawns & Landscaping, we are happy to do the job for you!
Posted on behalf of Everlast Lawns and Landscapes, L.L.C.
4920 Atlanta Hwy Suite 301
Alpharetta, GA 30004
Phone: (770) 480-2695
Email: everlastlawns@aol.com
Monday – Friday: 8:00 AM – 5:00 PM
Saturday, Sunday: Closed