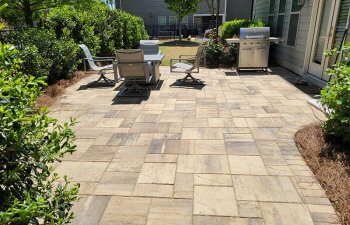 Do you want to install a paver patio but feel overwhelmed with your selection choices? You are not alone. Choosing pavers can be a headache for many homeowners. At Everlast Lawns & Landscapes, we are happy to walk you through the process. As a general guide, however, we recommend you consider the following questions when deciding on the type, size, pattern and color of your patio pavers:
How will you use your patio?
We all want a pretty patio, but you can't design your patio on aesthetics alone. It is important to consider the functionality of your patio. Will you use it as a transition space, gardening container, entertainment or dining area or fire pit gathering?
What style and shape is best for your patio?
You don't have to think of your patio as a perfect square or circle. It is important that your patio is functional but also blends in with the allotted space in your backyard landscape. It may also help to compliment your pavers with the style/colors of your home exterior, especially if the patio will be close by.
Will my patio be used as a walking path?
If you plan to use pavers to connect your patio to a garden, pool, driveway or other area, you should consider the safety and maintenance of your pavers. In general, pavers make great walkways because they can easily be reset and maintained, and they don't get too slippery when they are wet. Still, the amount of foot traffic your pavers will get is an important consideration.
These are just a few factors to consider when selecting the best pavers for your patio. Things such as your budget, longevity and climate also come into play. For a more comprehensive evaluation of which paver patio is best for you, please call our Alpharetta landscaping team.
Posted on behalf of Everlast Lawns and Landscapes, L.L.C.
4920 Atlanta Hwy Suite 301
Alpharetta, GA 30004
Phone: (770) 480-2695
Email: everlastlawns@aol.com
Monday – Friday: 8:00 AM – 5:00 PM
Saturday, Sunday: Closed