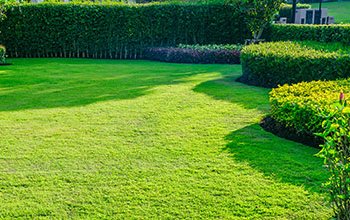 Growing an attractive lawn in Georgia is not always easy. Our southern climate can support successful grass in both the summer and winter months depending on whether you plant a warm-season or cool-season type of grass. Since neither turf type will thrive 100% of the year, property owners have to make a decision about which grass is best for their personal goals and landscape needs.
Is cool-season or warm-season turf better in Georgia? There's no right or wrong answer. Both types of grass offer pros and cons that must be weighed by each property owner. It is important to consider the requirements based on your existing landscape – which should begin with how much sunlight your lawn receives.
Sun Exposure Determines Success
While soil type and land grade can impact the condition and health of your Georgia lawn, it is sun exposure that is the driving factor of its success. The amount or intensity of sun on your grass impacts the moisture of the soil and overall heat exposure. This is what fosters (or threatens) the turf's growth. How much sunlight or shade will your lawn get? In general, warm-season grasses tend to thrive better in dryer, full-sun areas while cool-season grasses grow better with lower temperatures and higher moisture levels.
Quick Facts about Warm-Season and Cool-Season Grass
Your warm-season grasses in Georgia commonly include Bermuda grass, Zoysia grass and Centipede. While these grass types are slower to establish in the first year, they will create a drought-tolerant lawn that can withstand hot, full sunlight. Be aware, however, that warm-season grasses can go brown and turn dormant once the soil temperature drops below 65 degrees.
Cool-season grasses typically involve tall fescue, Kentucky bluegrass and ryegrass. They will germinate and establish quickly and grow well in fall, winter and spring. As the name implies, these grasses thrive on cooler temperatures and more moisture. When summer heats up in Georgia, don't expect your cool-season grass to stay as green and attractive as it was the rest of the year. If your landscape gets a lot of shade, Fescue can be recommended.
Ask an Expert
Need help choosing the best turfgrass for your residential or commercial property? Let us help. At Everlast Lawns and Landscapes, we are here to help you meet your goals for an attractive and healthy yard in Georgia.
Posted on behalf of Everlast Lawns and Landscapes, L.L.C.
4920 Atlanta Hwy Suite 301
Alpharetta, GA 30004
Phone: (770) 480-2695
Email: everlastlawns@aol.com
Monday – Friday: 8:00 AM – 5:00 PM
Saturday, Sunday: Closed