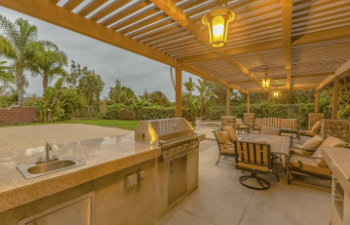 When it comes to designing your dream patio, selecting the right material is key. Flagstone, with its natural beauty and durability, is an excellent choice that can elevate the aesthetics and functionality of your outdoor space. At Everlast Lawns and Landscapes, we offer a variety of materials to choose from when it comes to designing and installing hardscape projects. Here are some top reasons why flagstone can be an ideal option for your patio project.
Timeless Elegance
Flagstone exudes a timeless elegance that can enhance any outdoor setting. Its natural colors and unique textures create a visually appealing surface that adds charm and character to your patio. Whether you prefer a rustic, modern, or traditional style, flagstone provides a versatile and timeless look that never goes out of style.
Durability and Longevity
One of the most significant advantages of flagstone is its exceptional durability. This natural stone is known for its ability to withstand heavy foot traffic, extreme weather conditions, and everyday wear and tear. With proper installation and maintenance, a flagstone patio can last for decades, ensuring that your investment stands the test of time.
Versatile Design Options
Flagstone offers a wide range of design options, allowing you to create a patio that reflects your personal style and preferences. The stones can be cut into various shapes and sizes, providing flexibility in designing unique patterns and layouts. Whether you desire a traditional rectangular patio or a more intricate mosaic design, flagstone offers endless possibilities to bring your vision to life.
Natural Slip Resistance
Safety is a top priority when designing an outdoor space, especially when it comes to areas prone to wet conditions. Flagstone's naturally rough surface provides excellent slip resistance, making it a safe option for your patio. Whether it's rainy weather or poolside splashes, you can enjoy peace of mind knowing that your flagstone patio offers a secure footing for you and your loved ones.
Low Maintenance
Maintaining a flagstone patio is relatively easy compared to other materials. The surface is naturally resistant to stains and spills, and its dense composition helps prevent weed growth between the stones. Occasional sweeping, rinsing, and sealing can help keep your flagstone patio looking beautiful for years to come. With minimal effort, you can spend more time enjoying your outdoor oasis and less time on maintenance tasks.
Eco-Friendly Choice
If you value environmentally friendly options, flagstone is an excellent choice for your patio. As a natural stone, flagstone requires minimal processing, reducing its carbon footprint compared to synthetic alternatives. Additionally, its durability means you won't need to replace it frequently, reducing waste and promoting sustainability.
Increased Property Value
Investing in a flagstone patio not only enhances the aesthetic appeal of your outdoor space but also adds value to your property. A well-designed and well-maintained patio can boost your home's curb appeal and attract potential buyers if you ever decide to sell. It's a worthwhile investment that pays off both in terms of enjoyment and return on investment.
Choose flagstone for your patio and experience the beauty, durability, and versatility that this natural stone offers. At Everlast Lawns and Landscapes, our expert team in Alpharetta can help you design and install a stunning flagstone patio that meets your unique needs and preferences. Contact us today to begin the transformation of your outdoor living space into a captivating retreat that you'll love for years to come.
Posted on behalf of Everlast Lawns and Landscapes, L.L.C.
4920 Atlanta Hwy Suite 301
Alpharetta, GA 30004
Phone: (770) 480-2695
Email: everlastlawns@aol.com
Monday – Friday: 8:00 AM – 5:00 PM
Saturday, Sunday: Closed