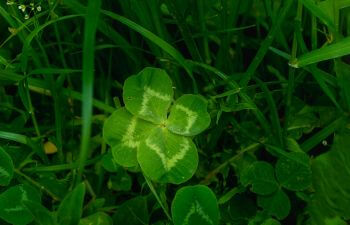 As a child, you may have loved lying on your belly in a patch of clover on your lawn, searching for that rare four leaf clover to bring you good luck. While this may be a favorite outdoor pastime for a child, you may not love these growing patches of clover in your yard as an adult.
What is Clover?
Clover is a perennial broadleaf weed, and just like other weeds, clover can quickly invade and overtake your lawn. While four leaves are possible, most clovers have just three leaves and small white flowers. They only grow up to 16 inches tall, but they can span a wide distance if left alone.
How to Get Rid of Clover?
Unless you love the look of clover and don't like to mow, you probably want to get rid of this weed invading your turf. In fact, for the sake of your lawn health, it is probably best. Removing clover can be challenging, but here are a few proven tactics:
Pull Clover Up by Hand (make sure to dig out the root system too!)
Cover Clover with a Trash Bag and Anchor it with Rocks (this will suffocate/kill clover in a week)
Sprinkle Corn Meal Gluten Every Few Weeks (inhibits root growth, best to apply in early spring after watering)
If you don't feel so lucky with your clover this year, let us help. At Everlast Lawns & Landscaping, we want your yard to be exactly what you want it to be. If that includes a clover-free turf, we have solutions. Our experts offer a full menu of treatment options to kill clover and other weeds in your lawn throughout the year.
Posted on behalf of Everlast Lawns and Landscapes, L.L.C.
4920 Atlanta Hwy Suite 301
Alpharetta, GA 30004
Phone: (770) 480-2695
Email: everlastlawns@aol.com
Monday – Friday: 8:00 AM – 5:00 PM
Saturday, Sunday: Closed