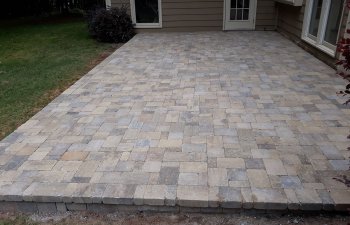 Pavers can provide an instant upgrade to your backyard. By creating a patio with pavers, you'll gain an attractive, durable and easily maintained space that is perfect for entertaining or extending your family gathering space. Pavers are highly versatile and easy to install too. However, just like any home improvement project, you'll want to be prepared. Whether you are hiring a professional or doing it yourself, keep the following tips in mind when placing your patio pavers:
Know Your Vision
The first step is to choose the correct type and amount of pavers that meet your overall vision and goals for your patio project. Pavers come in a wide range of sizes, colors, shapes and textures. Know your vision and do your research before you make your selection.
Consider Ordering Extra
When it comes to ordering your pavers, don't underestimate the quantity. You may need more cut pieces to fit your desired space or create the look you desire. Since pavers are so heavy, it is always better to have them ordered, delivered and ready at the beginning of your project.
Lay a Good Foundation
Your patio pavers will need an appropriate depth into your dirt as well as a solid base to prevent weeds growing through the cracks, shifting stones and poor drainage. Pavers do well with a layer of woven fabric, crushed stone/aggregate and concrete sand as a secure and successful foundation.
Give Your Patio an Edge
It is a good idea to have an edge restraint around the perimeter of your backyard pavers to keep them from shifting. This edge can be created with metal, plastic or aluminum.
Fill in the Cracks
Once your pavers are in installed where you want them, it will be time to seal the cracks between the stones using a shallow layer of concrete sand.
Need an expert to do your patio project for you? Call Everlast Lawns and Landscapes, LLC. We proudly offer some of the most popular types of pavers to complete your patio or other hardscape project to the highest standards. Our team can help you design, install or maintain your backyard pavers in Alpharetta.
Posted on behalf of Everlast Lawns and Landscapes, L.L.C.
4920 Atlanta Hwy Suite 301
Alpharetta, GA 30004
Phone: (770) 480-2695
Email: everlastlawns@aol.com
Monday – Friday: 8:00 AM – 5:00 PM
Saturday, Sunday: Closed