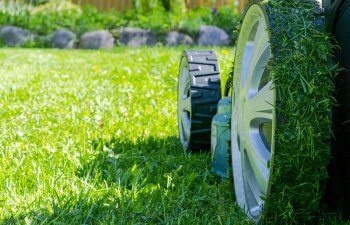 Are you confident in your mowing skills? Mowing your grass isn't just about improving the aesthetics of your lawn. There are mowing habits that can either help or harm the health of your lawn too. Here are some important guidelines on what you should and should not do when it comes to mowing:
DO keep your mower blades sharp

DON'T mow your grass when it's wet

DON'T wait too long between mowings

DON'T mow too short (no more than ⅓ of the grass length)

DO mow often

DO participate in "grasscyling" (leaving grass clippings)

DON'T mow during peak hours of the day
Keep in mind that cutting your grass the wrong way or at the wrong time can cause stress to your lawn. You may notice a diseased turf, sunburned areas of grass, weeds and poor growth in your landscape. In Georgia, it is important to mow your lawn in a way that helps it withstand hot and dry temperatures of summer. While it is common to focus on how you irrigate and fertilize your lawn for the summer, it is equally important to consider your mowing habits.
Talk to a Mowing Expert
To ensure you are following the correct mowing guidelines for your specific lawn, talk to our experts at Everlast Lawns & Landscapes. There are many factors to consider when determining your mowing habits, including the season of the year, type of grass, amount of sun/shade and your personal preferences for your grass appearance. Proper grass cutting habits and mowing consistency is essential for maintaining a beautiful yard – and what homeowner doesn't want that?
If you prefer to hand over the task altogether, we proudly offer a wide range of lawn maintenance services to fit your budget. At Everlast Lawns & Landscapes, we pride ourselves on using our keen landscaping knowledge to provide effective and customized lawn care services to each client
Posted on behalf of Everlast Lawns and Landscapes, L.L.C.
4920 Atlanta Hwy Suite 301
Alpharetta, GA 30004
Phone: (770) 480-2695
Email: everlastlawns@aol.com
Monday – Friday: 8:00 AM – 5:00 PM
Saturday, Sunday: Closed