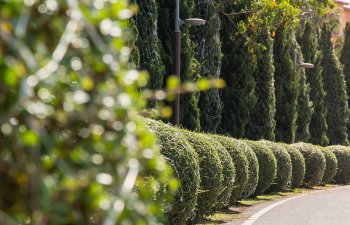 Do you love your home but hate your backyard view? Are you constantly bothered by street noise or loud neighbors? There are many reasons why homeowners consider privacy trees for their Georgia landscape. Unlike a traditional fence, privacy trees offer a more natural and aesthetically-pleasing way to border your property.
What Are Privacy Trees?
Your yard is an extension of your home. Therefore, it's understandable that you'd want to keep it more private and secluded from external elements or the prying eyes of neighbors. One of the most discreet and natural solutions to create privacy is by strategically planting certain trees and hedges. Privacy trees are planted in a row along the border of your property to add landscape design as well as serve the functional purpose of building a privacy screen.
Reasons to Consider Privacy Trees
There are a number of reasons why homeowners choose privacy trees, including the following:
Shield against harsh elements (wind, bright sun, etc)
Provide seclusion and retreat from nearby residents
Muffle loud noise from street or neighbors
Border property with a natural, eco-friendly and sustainable material
Choosing the Right Privacy Trees
There are countless varieties of privacy trees to choose from. It is important to first establish the reason you are investing in privacy trees, as this can help guide your decision. Privacy trees can be found in a number of heights, widths, colors and shapes. You'll also need to determine which type of soil your trees will be planted in and how your privacy trees will blend in with your existing landscape design. Regardless of the type, most privacy trees are very dense so that they can do their job of creating the privacy that you desire.
Need help with selecting the best privacy tree for your needs? Call Everlast Lawns and Landscaping. We are proud to offer affordable and expert lawn services to the greater Alpharetta community.
Posted on behalf of Everlast Lawns and Landscapes, L.L.C.
4920 Atlanta Hwy Suite 301
Alpharetta, GA 30004
Phone: (770) 480-2695
Email: everlastlawns@aol.com
Monday – Friday: 8:00 AM – 5:00 PM
Saturday, Sunday: Closed