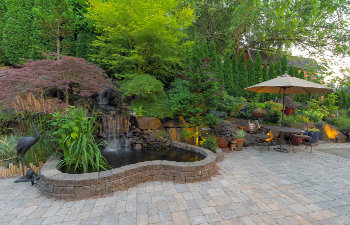 Your yard is not just an aesthetic extension of your home; it's a space for relaxation, recreation, and socialization. At Everest Lawns & Landscapes, we believe in creating landscapes that are not only beautiful but also safe and functional. One excellent way to enhance the safety and accessibility of your outdoor space is through the careful design and installation of landscape steps. By using durable materials like brick, flagstone, and pavers, you can create an elegant and safe pathway through your garden or yard.
Improved Accessibility
Landscape steps help create clear, guided paths that lead to different parts of your garden or yard. They are especially beneficial for areas with slopes or uneven terrain, making them more navigable and reducing the risk of trips and falls.
Weather-Resistant Solutions
Materials like brick, flagstone, and pavers are known for their durability and resistance to weather conditions. Properly installed landscape steps made from these materials can withstand rain, snow, and temperature fluctuations without losing their integrity, minimizing the risk of slipping.
Enhancing Night-Time Safety
By integrating outdoor lighting with landscape steps, you can enhance visibility during the evening hours. Softly lit paths not only add a touch of elegance but also guide the way, ensuring that family and guests can move safely through the yard at night.
Versatility in Design
Whether you desire a rustic appeal with flagstone or a classic look with brick, landscape steps can be customized to match the overall aesthetic of your outdoor space. This blend of form and function ensures that safety features do not compromise style.
Eco-Friendly Options
Many modern pavers are made from recycled materials, offering an environmentally friendly option. By choosing sustainable materials, you can enhance your yard's safety and contribute positively to the environment.
Long-Term Investment
Investing in quality materials and professional installation by a trusted provider like Everest Lawns & Landscapes ensures that your landscape steps will last for years to come. This long-term approach protects not only your safety but also your investment in your property.
Why Choose Everest Lawns & Landscapes?
Our team of professionals specializes in designing and installing landscape steps that align with your safety needs and aesthetic preferences. We also use only the finest brick, flagstone, and pavers, ensuring durability and elegance. Every yard is unique, and we provide tailored solutions to fit your specific landscape and requirements.
Landscape steps are more than a design feature; they are a safety asset that enhances the functionality and enjoyment of your outdoor space. At Everest Lawns & Landscapes, we are dedicated to creating landscapes that combine beauty, safety, and quality. Contact us today to explore how we can transform your yard into a haven of comfort and security, one step at a time.
Posted on behalf of Everlast Lawns and Landscapes, L.L.C.
4920 Atlanta Hwy Suite 301
Alpharetta, GA 30004
Phone: (770) 480-2695
Email: everlastlawns@aol.com
Monday – Friday: 8:00 AM – 5:00 PM
Saturday, Sunday: Closed