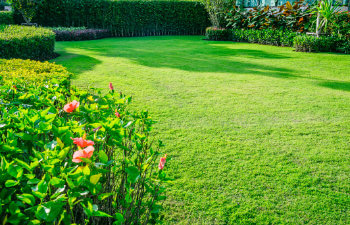 When choosing Everlast Lawns and Landscapes, you don't have to sign up for a full year of routine lawn care services. For customers who prefer it, we proudly offer our expertise as a "one-time" or seasonal service. As spring quickly approaches, a Yard Cleanup can be a perfect way to spend your landscaping dollars.
Many homeowners choose to invest in a yard clean up when there is a change of seasons, such as when your dull winter landscape needs prepare for a more picturesque spring. Whether you just want some extra hands to get the job done quicker or you need an expert's knowledge on your spring planting, Everlast Lawns and Landscapes has a crew ready to service your space on a one-time basis – no obligation and no strings attached.
What is Included in a One-Time Yard Cleanup?
A Spring Yard Cleanup can include some of the following tasks:
Prune/remove dead and damaged branches
Cut back perennials and divide them if applicable
Clean up around plants (including debris, leaves, dead foliage and extra mulch)
Assess thinned out areas and crowded areas of your landscape
Compost yard waste
Address damaged areas of your lawn
Tidy up hardscapes (walkways, patios, etc)
Take note of drainage issues
Are you confident that you can get your lawn ready for spring on your own? Consider a spring yard cleanup with Everlast Lawns and Landscapes. This can be one of the most important single investments you make for the appearance and health of your lawn during the warmer months of the year. There are often minor issues in your grass, flowers and trees that can be handled early so that it does not threaten the survival of your spring landscape. Our services can also include some preventative tactics, such as weed control, irrigation repair and drainage control.
Call today to get your quote for a one-time yard cleanup in Alpharetta.
Posted on behalf of Everlast Lawns and Landscapes, L.L.C.
4920 Atlanta Hwy Suite 301
Alpharetta, GA 30004
Phone: (770) 480-2695
Email: everlastlawns@aol.com
Monday – Friday: 8:00 AM – 5:00 PM
Saturday, Sunday: Closed