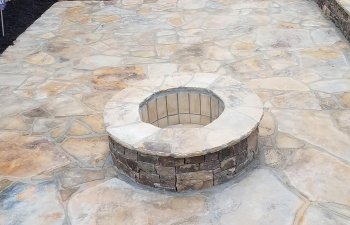 Outdoor fire pits remain a popular asset to a backyard space. They provide a cozy and convenient way to gather with family and friends through all seasons of the year. In addition, a well-designed and constructed fire pit can offer strong aesthetic appeal and complement the overall appearance of your landscape, especially when made of beautiful natural stone or brick.
Before you finalize your plans for an outdoor fire pit installation, however, there are some important safety tips to consider:
Placement of Your Fire Pit
Your overall location of your fire pit may depend on whether you have a wood-fired or gas-fire pit, as any gas pit will need the supply of a gas line and propane tank. However, all outdoor fire pits need to be at a safe distance from your home, overhanging branches, fences and your neighbor's yard. In some cases, you may need to clear your proposed location for your outdoor fire pit with community officials or a neighborhood HOA.
Lighting and Seating Around a Fire Pit
While the fire itself will provide some lighting, it is important to consider some additional (subtle) lighting that you may need to help people walk and move about in a safe manner under a dark sky. When it comes to seating, establish your chairs or benches at a safe distance from the fire pit and with enough room for people to walk in between seats without getting too close to the flames. Heavy or built-in seats are a good option to keep your guests from adjusting the position of the seats.
Safe Habits When Using Your Outdoor Fire Pit
Last but not least, you'll need to educate your family and your guests about the safety guidelines that surround a fire of any kind. Although the fire is controlled in the outdoor fire pit, there are still rules to follow. The National Fire Protection Association and ReadyWV offer the following fire pit safety advice:
Check wind direction before lighting a fire.
Don't use flammable fluids (gasoline, lighter fluid, etc.) to light or relight fires.
Don't wear flammable clothing (like nylon) or any loose-fitting clothing.
Keep children and pets at least 3 feet away from the fire.
Avoid using soft woods like pine or cedar, because they can "pop" and throw sparks.
Keep a fire extinguisher, garden hose or bucket of water nearby.
For more information on designing or installing an outdoor fire pit, call the experts of Everlast Lawns and Landscapes. We proudly offer outdoor fire pits that rank high in beauty, function and safety. Let us help you use and enjoy your outdoor space more this summer!
Posted on behalf of Everlast Lawns and Landscapes, L.L.C.
4920 Atlanta Hwy Suite 301
Alpharetta, GA 30004
Phone: (770) 480-2695
Email: everlastlawns@aol.com
Monday – Friday: 8:00 AM – 5:00 PM
Saturday, Sunday: Closed