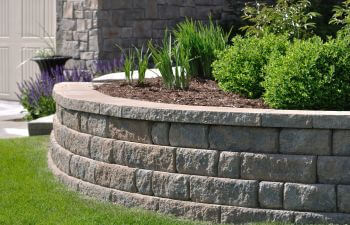 Having a retaining wall in your backyard may not be ideal, but it doesn't have to sabotage your outdoor space or decrease the value of your home. In fact, when designed and installed properly, your retaining wall can not only save your property from erosion but also add visual and functional appeal. At Everlast Lawns & Landscaping, we offer a variety of materials, sizes and styles when it comes to retaining walls. Our quality services can range from a three-foot natural stone retaining wall to a twelve-foot wall made of timbers.
Recognizing Your Erosion Problem
Erosion is a landscaping problem that develops over time when your property has a steep hill or slope. The water runoff after rain can cause the following signs of erosion in your yard:
Exposed tree roots
Exposed rocks
Bald spots (no plant or grass growth)
Migrating mulch
Clumps of soil, grass and debris at bottom of slope
What Can a Retaining Wall Offer?
Retaining walls don't have to be an eyesore to your property! At Everlast Lawns & Landscaping, we recognize the various ways a retaining wall can be constructed and the importance of creating a wall that blends in and/or complements with your surrounding landscaping. Beyond the appearance of your retaining wall, you can also choose a retaining wall that offers the following added benefits in terms of function:
Create more level space to utilize and enjoy
Manage water runoff from rainfall
Provide additional seating for your family and guests
Protect flowers, trees, plants and other landscaping elements from erosion
Protect your house foundation from drainage issues
Call a Retaining Wall Expert
Do you need a retaining wall in your Alpharetta yard? It's not a deal breaker. You'll be pleasantly surprised with our retaining wall options that can add beauty, function and value to your landscape.
Posted on behalf of Everlast Lawns and Landscapes, L.L.C.
4920 Atlanta Hwy Suite 301
Alpharetta, GA 30004
Phone: (770) 480-2695
Email: everlastlawns@aol.com
Monday – Friday: 8:00 AM – 5:00 PM
Saturday, Sunday: Closed