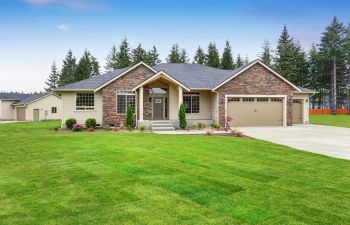 Are dead patches and bare spots sabotaging your pretty lawn? This doesn't mean your entire turf will fail. It does mean, however, that you need to properly identify the cause of the dead patches and initiate a solution quickly. With the help of a professional landscaper, you can restore the beauty and vitality of your turfgrass despite its current blemishes.
Diagnosing Brown Spots Within Your Grass
Brown spots in an otherwise green lawn are not only an eyesore but they can also indicate a bigger problem within the health of your lawn. It is important to act fast when it comes to diagnosing and treating dead patches. Here are some of the most common reasons why you may be seeing these small brown or "dead" patches in your lawn this spring:
Fungus
Do you have patches of grass that appear webbed and lighter-colored? This could be lawn fungus caused by extremely wet conditions, poor air circulation or too much shade.
Chinch Bugs
While you may assume your lawn is too dry, chinch bugs could be issue. Chinch bug damage may begin with yellow grass before it gradually changes to brown and dies. These types of dead patches tend to slowly spread outward.
Grubs
Grubs can be the culprit to your dead patches of lawn, especially if the area also feels spongey or lifts away easily. Spring and early summer are ideal times for grubs to infest your turf.
Improper Mowing Techniques
In some cases, brown spots are caused by setting your mower blades too low or not sharpening them. Make sure your mowing habits are not doing more harm than good.
Urine
One of the most common reasons for dead patches is your pet. If your dog urinates in the same area of grass, it can eventually cause the grass to die due to the high concentration of nitrogen.
Chemical Spill
Have you had a spill of gasoline, herbicides or other chemical on your grass? This can unfortunately lead to a brown spot where the chemical came in contact with the turf.
Foreign Objects
Dead patches can also be a result of suffocation. In other words, if you've left a garden hose, plastic swimming pool, lawn ornament or other large object on a specific area of grass for a long period of time, you can't expect that area to green up like the rest of the lawn that has been getting daily sunlight and air.
Fixing Dead Patches in Your Yard
The good news is that there are solutions to your dead patches. Our expert lawn care team understands how to properly diagnose these unsightly areas of grass and provide an effective and customized treatment. It can be as simple as encouraging your pet to urinate on the mulch instead of the grass or as involved as applying an insecticide or fungicide to nurse your turf back to health. Let us identify the reason for your dead patches today. Call Everlast Lawns & Landscapes in Alpharetta.
Posted on behalf of Everlast Lawns and Landscapes, L.L.C.
4920 Atlanta Hwy Suite 301
Alpharetta, GA 30004
Phone: (770) 480-2695
Email: everlastlawns@aol.com
Monday – Friday: 8:00 AM – 5:00 PM
Saturday, Sunday: Closed