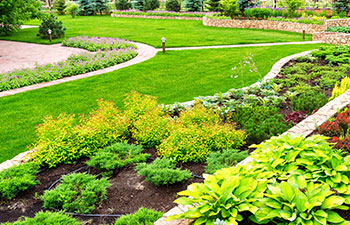 Every living thing has a life cycle, and your landscape is no different. Fortunately, there are ways to extend that life cycle and maximize your landscaping investments. Depending on the size of the lawn and the type of plants and trees that exist on a property, the average landscape grows and matures for about 5 to 7 years before it needs to be upgraded or adjusted. How you care for your landscape the first two years can be a primary indicator towards its success and sustainability. Whether you manage a small basic lawn or an extravagantly designed landscape, there are three simple things you can do to boost its lifespan.
#1 Proper Pruning
The selective removal of branches from a tree or shrub in order to encourage new, healthy growth is called pruning. Each plant in your landscape demands a specific technique and timeline for pruning. Doing the job by hand can be effective, but it comes with a strong understanding of what your specific landscape needs. Hiring a professional for routine pruning and guidance as your trees and shrubs mature is a smart choice for most homeowners.
#2 Balanced Fertilizing
Just like humans, your living plants, trees and grasses need food to survive. When it comes to fertilization, it is important to know what your soil needs for balanced growth and vitality. In many cases, this requires periodic soil testing.
#3 Managed Irrigation
Don't make the mistake of thinking more irrigation is better for your lawn. On the contrary, poorly managed irrigation involving overwatering or under watering can result in the quick death of your landscape. Take the time to understand the irrigation demands of your lawn and manage your irrigation system accordingly. To ensure you are on the right track, consider an irrigation audit by a professional landscaper.
Does it overwhelm you to think about keeping your landscape alive and looking its best through all seasons? Call the experts of Everlast Lawns and Landscapes. Our knowledge, skill and experience in the landscaping industry means we can customize a lawn care plan for optimal, long-term success.
Posted on behalf of Everlast Lawns and Landscapes, L.L.C.
4920 Atlanta Hwy Suite 301
Alpharetta, GA 30004
Phone: (770) 480-2695
Email: everlastlawns@aol.com
Monday – Friday: 8:00 AM – 5:00 PM
Saturday, Sunday: Closed