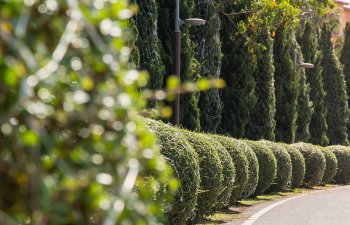 Did you know that there are certain features of your landscape that have a "shelf life"? Plants, for example, won't last forever and they are not invincible – even with the best care and intentions. Like all living things, plants will eventually die. If you want to retain a beautiful and healthy landscape, however, you may need to remove and replace the plant before it takes its final breath.
Shrubs are a perfect example of a plant that may need replacement sooner than you think. Not sure when and if you need replace your shrubs? Here are five things to consider:
Have your shrubs outgrown the area?
While some shrubs can be reduced in size by routine pruning, you may find that your shrub has simply grown too big for the space it was originally planted in.
Are your shrubs under-performing?
Just like any tree or plant, you may need to remove it and start fresh if it is showing signs of disease or failure, such as discoloration, premature leaf drop, failure to bloom, declining in size, dead spots on leaves or twig death
Were your shrubs planted in the wrong location?
While a lot of shrub issues can be blamed on disease and pest issues, sometimes the problem is that it was poorly installed from the beginning. Certain shrubs need certain amounts of shade, sun and moisture to thrive. Neglecting these components can cause them to fail prematurely or not grow at all.
Have Your Shrubs Been Damaged
It is not uncommon to see shrubs that have been injured, especially if they are near a driveway, pool or basketball goal. While some shrubs can redeem themselves after injury, others need to be removed and replaced.
Are you tired of your shrubs?
It's okay to be ready for a change in your landscape design and appearance. This can involve the removal of shrubs and installation of new plants or hardscape features on your property. Simple changes like removing your shrubs can make a profound impact on the aesthetics of your yard.
Still not sure if you want or need to replace your current shrubs? We can help at Everlast Lawns and Landscapes. In fact, that is what we specialize in. Call today to schedule a consult with our lawn care experts.
Posted on behalf of Everlast Lawns and Landscapes, L.L.C.
4920 Atlanta Hwy Suite 301
Alpharetta, GA 30004
Phone: (770) 480-2695
Email: everlastlawns@aol.com
Monday – Friday: 8:00 AM – 5:00 PM
Saturday, Sunday: Closed