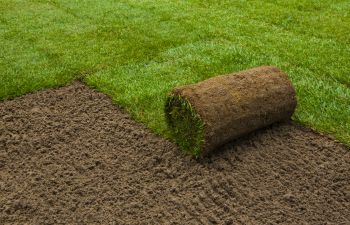 Most would agree that laying sod one of the most fulfilling landscaping tasks. Right before your eyes, you can watch a barren piece of land transform to into a lush, thriving and usable lawn. While laying sod isn't super complicated, it does require some skill and know-how. There is a specific and proper process you'll need to follow when you install sod to ensure your efforts are successful – which is why many homeowners turn to lawn care experts for professional sod installation.
If you willing to tackle this lawn transformation yourself, it is important to follow these tips so that you don't waste your time or your money.
#1 Clear Away Old Grass and Debris
Get rid of large rocks, old pipes, tree roots, existing grass and any other debris until you only have bare dirt on your area. In many cases, special tools and machinery will be needed to accomplish this task.
#2 Level the Ground and Prep the Soil
Ground preparation can involve a number of things depending on the current condition of the soil/dirt. You may need to add topsoil and soil amendments such as fertilizer gypsum or sand before you water your ground. A landscaping expert can tell you exactly what your soil needs to support healthy turf.
#3 Install Irrigation
Next is setting up the watering system for your new sod. It is best to install your sprinklers so that the heads are about an ½ inch above the ground. You'll also need to be sure your sprinklers are supplying an even and adequate amount of water to all areas that will be sodded.
#4 Order and Lay Your Sod
Once the soil is ready and sprinklers are in place, it is time to order and lay your sod. Do your best to lay your sod strips immediately after they are delivered to avoid drying roots. Make sure the ground is moist and the strips get laid without air pockets between the sod roots and soil (a sod roller may be helpful). Start with the back line and lay the rest of your sod in a way that does not allow the seams to line up. Keep your sod moist through the entire process!
Not sure you can handle sod installation on your own? Leave the task to our experts at Everlast Lawns and Landscapes. We offer sod installs with various types of popular grasses in Georgia, each offering its own benefits. We can help you choose the right sod for your yard and install it the right way!
Posted on behalf of Everlast Lawns and Landscapes, L.L.C.
4920 Atlanta Hwy Suite 301
Alpharetta, GA 30004
Phone: (770) 480-2695
Email: everlastlawns@aol.com
Monday – Friday: 8:00 AM – 5:00 PM
Saturday, Sunday: Closed