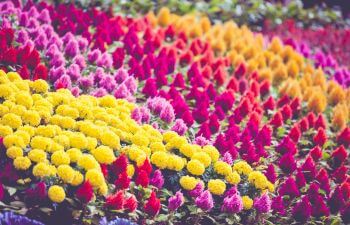 Bunnies are often regarded as soft, cute and innocent animals that emerge in spring. However, if you've ever woken up to garden or flower bed that has been ravaged by this furry creature, you may not consider them so fondly. If rabbits are plundering your new spring blooms, you have every right to be frustrated, as these herbivore animals can eat your plants and flowers down to the nubs in one meal. You should know, however, that there are some things you can do to prevent or deter rabbits from eating your landscape.
Plant the Right Species
Educate yourself on what rabbits like and don't like. For example, bunnies often go for tulips, pansies and hostas, but they are not as fond of flower varieties like daffodils, hyacinths and peonies.
Apply a Repellent
Rabbits are excellent sniffers, and you can use this to your advantage. There are repellent sprays that rabbits do not like. These can be purchased and are also found as a natural or organic solution if you prefer.
Fence in Your Garden
While this may not be the most aesthetically-pleasing method to keeping rabbits away, many homeowners resort to small fence to protect their gardening investment. Chicken wire with mesh is a great choice, but don't forget to make it high enough so that bunnies can't hop over.
How to Tell If Rabbits are the Culprit
You are unlikely to actually witness a rabbit munching away on your flowers. Instead, you'll have to do the detective work. Unlike pests and insects that can destroy your plants, bunnies tend to eat stems all the way to the ground, leaving clean-cut nubs. Rabbits also like to go straight for the young shoots of flowers because they're closer to the ground. Finally, a telltale sign that a rabbit has made a meal from your flower garden is the evidence of small round fecal pellets left behind.
Are you frustrated at the battle between your spring blossoms and intruding bunnies? Call Everlast Lawns & Landscapes, LLC. We understand the many ways you can protect your landscape from pests and animals.
Posted on behalf of Everlast Lawns and Landscapes, L.L.C.
4920 Atlanta Hwy Suite 301
Alpharetta, GA 30004
Phone: (770) 480-2695
Email: everlastlawns@aol.com
Monday – Friday: 8:00 AM – 5:00 PM
Saturday, Sunday: Closed