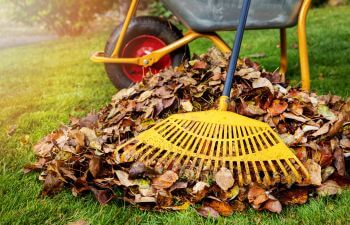 Fall is known for its changing leaves and crisp air. However, in terms of your landscape, the fall season is a very important time. Fall is a transition period for your landscape, or the time between the last remnants of summer growth and preparation for winter dormancy. To ensure your fall landscape stays healthy and prepared for the upcoming cold weather, we highly recommend a fall yard cleanup.
Whether you tackle the job on your own or hire our professionals at Everlast Lawns and Landscapes, there are some significant advantages to be gained when performing a yard cleanup in the fall.
A yard cleanup is more than just raking fallen leaves. In fact, here is a list of optimal tasks for a more comprehensive fall yard cleanup:
Remove Leaf Litter (old and new fallen leaves)
Clear Away Sticks, Pinecones, Twigs, Rocks and Other Debris
Sweep and Clean Garden Beds
Create a Compost Pile with Lawn Debris
Fertilize
Aerate
Remove Weeds or Apply Weed Killer
Fill in Bare Patches in Lawn
Overseed (if necessary)
Begin Mowing at a Shorter Setting
Although your grass may not be actively growing as fast as it does in the summer, it still needs nourishment. By following these steps, you can ensure your lawn doesn't suffocate under wet leaves and debris. Most importantly, you can help your landscape not only survive the winter weather but thrive in the spring. It is much harder to revive and repair your lawn in the spring compared to preparing it in the fall.
Do you need help with your Fall Yard Cleanup? Call Everlast Lawns and Landscapes today. We know what your lawn needs to survive though all seasons in Georgia.
Posted on behalf of Everlast Lawns and Landscapes, L.L.C.
4920 Atlanta Hwy Suite 301
Alpharetta, GA 30004
Phone: (770) 480-2695
Email: everlastlawns@aol.com
Monday – Friday: 8:00 AM – 5:00 PM
Saturday, Sunday: Closed