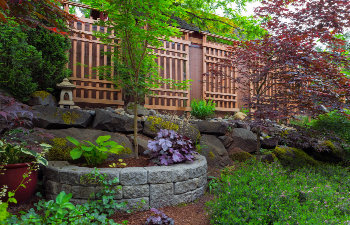 As homeowners in Alpharetta, we all strive to make our properties stand out from the rest. One highly effective way to achieve this is by incorporating hardscaping elements into our outdoor spaces. At Everest Lawns & Landscapes, we understand the transformative power of hardscape features and how they can significantly boost your home's value and curb appeal. In this blog post, we will explore the numerous benefits of hardscaping and why it's a worthwhile investment for homeowners in Alpharetta.
Instant Visual Impact
Hardscaping refers to the incorporation of non-living elements, such as stone, brick, pavers, or concrete, into your landscape design. These features, such as patios, pathways, retaining walls, and outdoor kitchens, instantly elevate the visual appeal of your home. By adding structure, texture, and contrast to your outdoor space, hardscaping creates a welcoming and impressive first impression. Potential buyers and visitors will be drawn to the unique and well-designed hardscape elements, setting your property apart from others in the neighborhood.
Extended Living Space
Alpharetta's favorable climate allows us to enjoy our outdoor spaces throughout the year. Hardscaping offers the opportunity to expand your living area beyond the confines of your home. Imagine hosting family gatherings on a spacious patio, lounging by a fire pit on cool evenings, or cooking delicious meals in a custom-built outdoor kitchen. These functional hardscape additions not only enhance your quality of life but also increase the usable square footage of your property, making it more appealing to potential buyers and adding value to your investment.
Low-Maintenance Solution
One of the greatest advantages of hardscaping is its durability and low maintenance requirements. Unlike living landscaping elements, such as plants and grass, hardscape features do not require regular watering, mowing, or trimming. With busy schedules and a desire for a hassle-free outdoor space, homeowners in Alpharetta appreciate the time and effort saved by opting for hardscape solutions. The minimal upkeep associated with hardscaping translates into more leisure time and reduced expenses in the long run, making it an attractive feature for potential buyers.
Increased Property Value
By investing in hardscaping, you are making a smart financial decision. Hardscape features have a high return on investment (ROI) as they enhance the overall appeal and value of your property. When well-designed and properly installed, hardscaping can significantly increase your home's market value. Potential buyers are willing to pay a premium for homes that offer a well-designed outdoor space with functional hardscape elements. It not only adds aesthetic value but also demonstrates the care and attention given to the property's overall maintenance and design.
Get a Quote on A New Hardscape in Alpharetta
At Everalast Lawns & Landscapes, we offer a full menu of durable and attractive hardscapes to boost your home value and curb appeal. Call today to learn about installing stone steps, an outdoor fire pit, a flagstone patio or water feature to your residential space.
Posted on behalf of Everlast Lawns and Landscapes, L.L.C.
4920 Atlanta Hwy Suite 301
Alpharetta, GA 30004
Phone: (770) 480-2695
Email: everlastlawns@aol.com
Monday – Friday: 8:00 AM – 5:00 PM
Saturday, Sunday: Closed