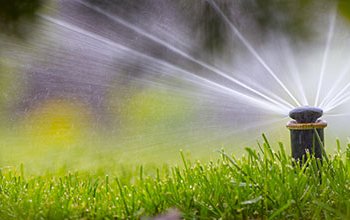 As we enter further into the days and weeks of spring in Georgia, your lawn will inevitably get thirsty – which means it is time to wake up your irrigation system. Since your sprinklers have been down for winter, they will likely need a tune-up and some extra attention to ensure they can do their job of nourishing and reviving your spring landscape.
Here are some top tune-up tips for your spring irrigation system:
#1 Reset Irrigation Controls
The timer, date, clock and other settings represent your control panel. Make sure these settings are correct for your spring watering schedule. You may also want to replace the back-up battery in the controller and clean the cobwebs off the panel.
#2 Check for Flow Obstructions
Test out your sprinklers. If you see water spraying where it is not supposed to or bubbling to the ground, you need to inspect the sprinkler head for debris that could be blocking water flow. Some sprinkler heads may have become buried under soil and mulch during the winter months.
#3 Inspect Sprinkler Heads and Valves
Inspect your valves, sprinkler heads and nozzles closely. If you see cracks, chips or excessive wear, you'll need to replace them as soon as possible. Valves are designed to regulate water distribution, if your valves are leaky and your sprinkler heads are damaged, you are at risk for an explosive water bill and damage to your lawn.
#4 Avoid Water Hammer
When turning on the water of your irrigation system for the first time, it is important to do so in a slow and controlled manner. Since the pipes and valves have not been used in several weeks or months, a powerful surge of water (known as "water hammer") can occur if the water is turned on too fast.
#5 Consider Professional Repair and Maintenance
If irrigation startup and upkeep is not your thing, call the experts at Everlast Lawns and Landscapes, LLC. We offer routine irrigation maintenance, installation and repair at an affordable cost. Don't deprive your landscape of the proper amount of water it needs to thrive this spring!
Posted on behalf of Everlast Lawns and Landscapes, L.L.C.
4920 Atlanta Hwy Suite 301
Alpharetta, GA 30004
Phone: (770) 480-2695
Email: everlastlawns@aol.com
Monday – Friday: 8:00 AM – 5:00 PM
Saturday, Sunday: Closed