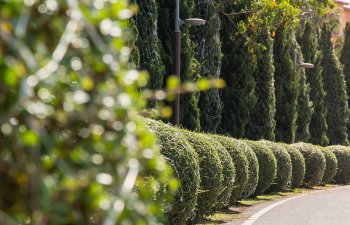 Compared to your grass or your flower beds, your trees may seem like the most independent and low-maintenance part of your landscape. However, both young and old trees need some attention and care to stay healthy. Keep in mind that when a tree dies and goes unnoticed, it can be a safety and liability threat to your family, friends and neighbors. Dead or dying trees are the first to go down during a big storm or strong wind.
The Benefits of Trees
We also want to keep our trees in good shape for their aesthetic benefit. These bold pops of color add depth and attraction to your overall landscape. Your trees provide welcome shade for your yard and a sanctuary for birds and other wildlife. Last not but not least, trees reduce noise and air pollution and create oxygen through the absorption of carbon dioxide. Don't dismiss the importance of caring for your trees – even if they seem like they do just fine on their own.
Tree Care 101
While it is true that trees don't require a rigorous maintenance schedule, they do need regular inspection and pruning. Trees may need your help to revive if they have been damaged by weather, insects or disease.
Young Trees (under 5 years): As you would expect, saplings (or young trees) need more care than older trees. This includes planting them in the right place and at the correct depth into the ground. You'll need to mulch around your tree for moisture retention and protection, but don't apply your mulch right up against the tree trunk. A heavy watering schedule is also important to foster a healthy and growing young tree.
Older Trees (over 5 years): After about five years, you can trust that your trees have established a strong root system and are less needy. From this point on, you need to inspect your tree regularly as well as prune it as needed. This includes removing dead, broken or crossed branches. In general, aim to keep two-thirds of the living branches on your trees while pruning.
For more information on how to care for your commercial or residential trees, please call Everlast Lawns & Landscaping. We can handle all parts of your landscape, from your smallest flower to your largest tree and everything in between.
Posted on behalf of Everlast Lawns and Landscapes, L.L.C.
4920 Atlanta Hwy Suite 301
Alpharetta, GA 30004
Phone: (770) 480-2695
Email: everlastlawns@aol.com
Monday – Friday: 8:00 AM – 5:00 PM
Saturday, Sunday: Closed