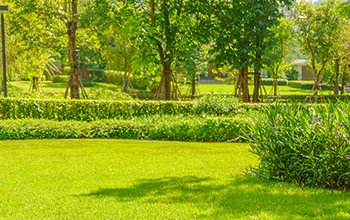 As the spring season reaches its peak, your landscape has likely come alive with vibrant colors. When it comes to your trees, you should notice a fullness of green and healthy leaves. But what about that one bare tree that refused to show its beauty this spring. Knowing if you have a dead tree on your property is important for several reasons. Dead trees are a serious hazard to your home, your family and the surrounding environment, and they need to be removed.
Things to Look For
Identifying a dead tree is not always an easy task, especially if you have to detect a dead tree in the winter months. However, there are several telltale signs that a tree is dead or dying. While a landscaping expert can tell you for certain whether a tree is dead or alive, here are some visual warning signs that you have a dead tree that needs removal:
Fungus Growth
Tree Trunk Damage
Bare Branches
Damaged Roots (leaning tree)
Another way to evaluate the vitality of tree is to perform a scratch test. Use a small knife to scratch the outside of a few branches. If the inside is consistently green and moist, the tree is considered healthy.
The Danger of Dead Trees
Aside from being an eyesore on your lush spring landscape, a dead tree can be a serious risk to the people that occupy and visit your property. A dead tree is not stable. A gust of high winds or strong spring storm can cause the tree to fall in an unpredictable way. Your home construction, hardscapes, vehicles, power lines and neighbor's property can be in harm's way. Dead trees are a major liability! Therefore, it is imperative that you schedule tree removal for a dead tree sooner rather than later.
The Benefit of Hiring Our Landscaping Team for Tree Removal
At Everlast Lawns and Landscapes, we can handle your tree removal from start to finish. We not only have the experience and equipment to remove most trees in a safe manner, but we can also perform yard cleanup after the tree is removed and offer landscaping ideas to fill the open space that is left. Call today to schedule dead tree removal in Alpharetta.
Posted on behalf of Everlast Lawns and Landscapes, L.L.C.
4920 Atlanta Hwy Suite 301
Alpharetta, GA 30004
Phone: (770) 480-2695
Email: everlastlawns@aol.com
Monday – Friday: 8:00 AM – 5:00 PM
Saturday, Sunday: Closed