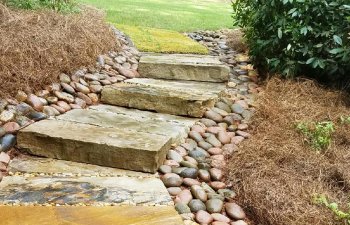 We often think of stairs as a functional feature inside the home. However, steps can be a valuable addition to your outdoor space as well. Whether natural stone, brick or pavers, landscape steps offer both functionality and aesthetic appeal when constructed by a professional.
When Are Landscape Stairs Beneficial?
Landscape stairs are often used on properties with a slope or grade. They allow you (and your guests) to safely transition from one level to another. In doing so, many homeowners gain more usable outdoor space and are able to maximize their landscape design. A safe means of traversing on a difficult terrain can also lower the risk of others getting injured on your property.
Another way that landscape stairs are beneficial is erosion prevention. Properties on a hill tend to have challenges with erosion or drainage. Strategically placed stairs built into the ground can work to prevent the deterioration of your landscape after periods of hard rain.
While landscape steps are primarily considered for their functionality, they can also be an excellent way to dress up the overall design of your landscape or compliment the style of your home. Steps can add dimension as well as make a statement in certain areas of your yard. You can even choose to add railing or lighting to decorative stone steps to make them feel like an intriguing extension of your home.
Contact Us for Landscape Steps Installation
If you think that landscape steps could serve purpose and/or add appeal to your outdoor space, call the experts of Everlast Lawns and Landscaping. Our natural stone landscape steps are solid, safe and customizable to your specific needs.
Posted on behalf of Everlast Lawns and Landscapes, L.L.C.
4920 Atlanta Hwy Suite 301
Alpharetta, GA 30004
Phone: (770) 480-2695
Email: everlastlawns@aol.com
Monday – Friday: 8:00 AM – 5:00 PM
Saturday, Sunday: Closed