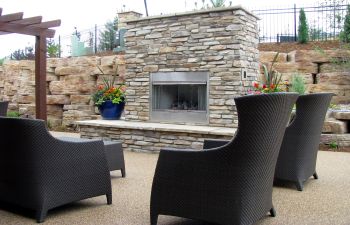 Regardless of just how cold it is outside, the winter season can cause a depressed mood. This year, the winter blues can be especially exaggerated as families avoid traveling and socializing to stay busy. If you are feeling sad, bored or lonely and looking out at your dreary landscape isn't helping, there may be something you can do about it.
Upgrading your landscape with a new hardscape installation can be an excellent way to lift your spirits this winter and bring your outdoor space back to life despite the cold temperatures. You don't have to install a swimming pool or build a large patio to boost your landscape enjoyment. In fact, there are several simple and practical hardscapes that can provide the perfect enhancement to your bleak winter landscape, including the following:
#1 Water Features
Water represents a classic and very popular hardscape addition. The sights and sounds of a water fall, fountain or other water feature can provide the relaxing oasis you need in the middle of a stressful or mundane season.
#2 Fire Pit
Tired of staying inside? Consider installing a custom outdoor fire pit to stay warm, socially distance with friends and enjoy a different scenery than the interior walls of your home. Fire pits come in all sizes, shapes and materials to meet your style and budget.
#3 Outdoor Dining
As we limit our time in restaurants, we are spending more time eating at home. To expand your home dining experience, consider adding a dining space outside. You can take it as simple as a small stone patio for a table or as extravagant as a full outdoor kitchen with cabinets, appliances and more.
Need more ideas for designing a brighter and more enjoyable outdoor space this winter? Call Everlast Lawns & Landscaping today. We offer a full menu of services in hardscape installations as well as landscape design and maintenance.
Posted on behalf of Everlast Lawns and Landscapes, L.L.C.
4920 Atlanta Hwy Suite 301
Alpharetta, GA 30004
Phone: (770) 480-2695
Email: everlastlawns@aol.com
Monday – Friday: 8:00 AM – 5:00 PM
Saturday, Sunday: Closed