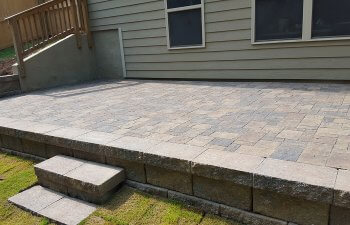 Could a new patio help you enjoy and use your outdoor space more than you do now? Custom patios, whether stone, brick or pavers, can offer a substantial return on your investment. In fact, when constructed functionally and aesthetically, your custom patio can even increase your property value. According to the National Association of Realtors, a concrete paver patio can yield upwards of a 69% ROI at your residential property!
When designing your new patio or walkway with Everlast Lawns & Landscapes, you will have a wide selection of long-lasting, durable materials to choose from, such as:
Concrete pavers
Flagstone
Concrete slabs
Brick
Our team members will work together to help you choose a material that complements your landscape as well as your home, business, or other buildings. It is also important to consider how the patio will be used – Will it surround a pool or hot tub? Will the patio get high foot traffic? Do you need a material that is easy to clean? In addition to materials to choose from, our pavers and flagstone offer a diverse menu of sizes, shapes, colors and patterns.
Reasons to Install a Custom Patio
There's a lot to gain when you install a custom patio. Not only will it increase your property value, but you'll be able to use your outdoor space better than you ever have. Patios allow homeowners to entertain guests without fear of soggy grass, and they provide a perfect foundation for a water feature, fire pit, furniture or outdoor kitchen. Lastly, your custom patio can drastically improve the aesthetic appeal of your entire landscape and provide cohesive ambiance to your backyard.
You'll be happy to know that custom patios are long-lasting and low maintenance. Your patio may require cleaning and sealing periodically, but only about every 3-5 years depending on the material you choose.
Ready to talk to one of our landscaping experts about a custom patio or walkway at your Georgia property? Call Everlast Lawns & Landscapes today
Posted on behalf of Everlast Lawns and Landscapes, L.L.C.
4920 Atlanta Hwy Suite 301
Alpharetta, GA 30004
Phone: (770) 480-2695
Email: everlastlawns@aol.com
Monday – Friday: 8:00 AM – 5:00 PM
Saturday, Sunday: Closed