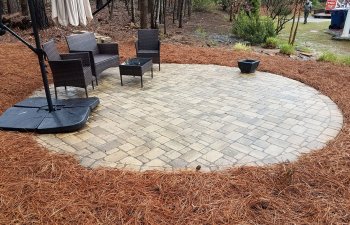 Are you designing or remodeling your backyard space with a hardscape installation? Whether you are building a patio, walkway, steps or other hardscape, one of your primary decisions will be choosing the material it will be constructed with. While brick and pavers are popular choices for patios and steps, a leading hardscape material is flagstone. In fact, while flagstone may cost you more upfront, this natural and beautiful material can offer one of the best returns on your landscaping investment.
Here are some of the top benefits of choosing flagstone for your next outdoor project:
#1 Flagstone Offers Natural Beauty
Since flagstone is comprised of natural stones, it offers a hardscape alternative that feels more like an extension of your landscape rather than a cookie-cutter, man-made material in your backyard. Customers who appreciate a patio or walkway with a natural look and feel will often choose flagstone.

#2 Flagstone is Versatile
While flagstone is taken straight from nature, you can still customize it to fit your unique needs and style. Depending on where the stones are quarried, flagstone pavers can come in all shapes, patterns and sizes and portray rich earth tones of grey, brown, green and red. Flagstone can also be installed in a variety of ways, including mortaring them in a slab of concrete or compacted in a bed of sand for a more natural appearance.
#3 Flagstone Surfaces are Safe
Whether it is a flagstone patio, walkway or steps, you'll appreciate that flagstone is also a hardscape material that is naturally slip-resistant and safe. This lowers the risk of injury to your family as well as your guests when entertaining.
#4 Flagstone Landscaping is Durable and Low-Maintenance
One of the most valued benefits of flagstone is its long lifespan and minimal upkeep. Compared to concrete pavers, flagstone is more durable and incurs less chips and breaks over time. A couple of power-washing sessions per year may be all that your flagstone patio needs to remain in top condition.
#5 Flagstone Hardscapes are a Timeless Trend
Unlike many materials in home renovations, flagstone never goes out of style. It offers timeless appeal that has been around for centuries.
Now that you are convinced that flagstone is the right material for your outdoor space, it is time to find a quality contractor to complete your project. Call Everlast Lawns & Landscaping for expert flagstone hardscape installation. We do patios, walkways and steps of all sizes!
Posted on behalf of Everlast Lawns and Landscapes, L.L.C.
4920 Atlanta Hwy Suite 301
Alpharetta, GA 30004
Phone: (770) 480-2695
Email: everlastlawns@aol.com
Monday – Friday: 8:00 AM – 5:00 PM
Saturday, Sunday: Closed