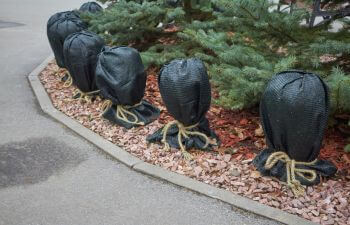 When freezing temperatures are expected in Georgia, we bring our pets inside and unpack our winter coats and gloves. But what about your landscape? Beyond winterizing your irrigation system, you may also need to prepare your shrubs and bushes for plunging temperatures. Though freezing weather is not long-lasting or too common in our southern state, it can shock our plants and even ruin them for their springtime emergence if we don't give them some TLC.
Preparing Bushes for Winter
Your bushes or shrubs certainly won't demand a lot in the winter months. But that doesn't mean they are exempt from damage. Before the first frost, follow these easy steps to help protect your bushes and shrubs against the extreme weather:
Inspect for any broken or damaged branches.
Trim dead and dying leaves to help open their canopies and foster better air circulation.
Lay mulch around the base for insulation.
Consider covering your shrubs with a blanket or tarp if temps get extremely cold.
Turn off irrigation system.
Winterizing your bushes or lawn is not a difficult task to do on your own, but if you lack the confidence or time, we are happy to do the job for you. Call Everlast Lawns and Landscapes today to learn more about preparing your landscape for the coldest days of winter in Georgia. It only takes one hard freeze to ruin your plants and sabotage your plans for a vibrant spring landscape.
Posted on behalf of Everlast Lawns and Landscapes, L.L.C.
4920 Atlanta Hwy Suite 301
Alpharetta, GA 30004
Phone: (770) 480-2695
Email: everlastlawns@aol.com
Monday – Friday: 8:00 AM – 5:00 PM
Saturday, Sunday: Closed