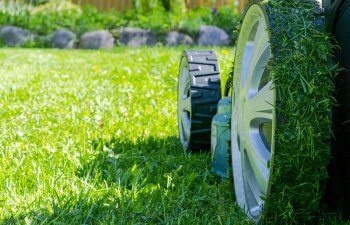 Cutting your grass isn't like cutting your hair. When it comes to lawn mowing, there is a right and wrong way of doing things. There are several factors that can impact how and when your grass needs to be cut, but it can also be detrimental if you cut it the wrong way. Unlike a head of hair that will eventually grow back, lawn mowing mistakes can cost you more than its appearance. Mowing mishaps can compromise the health and livelihood of your lawn.
You are likely to see physical signs of improper mowing within your turf. If your grass isn't growing or looking the way you'd like, consider the following common mistakes that you could be making each time you crank the mower.
#1 Mowing Too Often or Not Enough
You can't always look at your calendar to determine when you should mow. Mowing frequency depends on the weather conditions, turf type, lawn health and other factors that impact the growth rate of your lawn. A good rule is to mow when you only need to take off a third or less of the height of your grass.
#2 Mowing Too Short
Think you can go longer between mowings if you simply cut your turf extra short? Not so fast.
Over mowing, or cutting your grass too short, can make your turf dry out faster and create bald spots that harbor weeds.
#3 Mowing When Grass is Wet
You'll do more harm than good when you mow grass that is wet from dew, rain or irrigation. It can cause the grass blades to fold over in clumps and tear instead of neatly clip.
#4 Mowing with Dull Blades
A sharp blade is always more efficient and healthier for your grass. Signs that you need to sharpen your mower blade include a white or brown cast to your lawn surface or the frequent need to make multiple passes to get an even lawn.
#5 Mowing in One Direction
When it comes to mowing direction, your turf needs you to change it up sometimes. Varying your mowing direction helps to avoid ruts, soil compaction and flattening.
Want to Hand Your Mowing Tasks Over to a Professional?
At Everlast Lawns and Landscaping, we proudly routine mowing and other lawn maintenance services to keep your lawn looking its best. If you are tired of making mistakes when mowing your yard, call our experts in Alpharetta.
Posted on behalf of Everlast Lawns and Landscapes, L.L.C.
4920 Atlanta Hwy Suite 301
Alpharetta, GA 30004
Phone: (770) 480-2695
Email: everlastlawns@aol.com
Monday – Friday: 8:00 AM – 5:00 PM
Saturday, Sunday: Closed