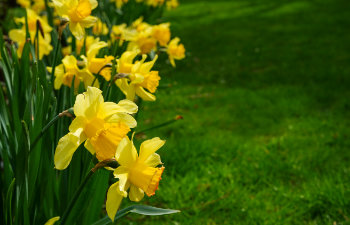 When it comes to plant and flower installation in your yard, you have two basic choices: perennials and annuals. At Everlast Lawns & Landscapes, we proudly install and maintain both. We can help you decide if annual plants are the best choice for you. Annual flowers grow for one long season and then perish with the onset of freezing weather. Whether you're a seasoned gardener or a beginner, annuals offer a wide array of colors, fragrances, and textures that can breathe new life into your yard. Here is a closer look at the benefits of planting annuals as well as some of the most preferred types for Georgia landscapes.
Burst of Vibrant Colors
One of the most enchanting aspects of annuals is their ability to create an explosion of vibrant colors in your yard. Whether you prefer rich reds, sunny yellows, soothing blues, or delicate pinks, annuals offer a broad spectrum of hues to suit every taste. Their vivid blooms can add visual interest and create eye-catching focal points, turning a mundane landscape into a lively and inviting space.
Versatility and Flexibility
Annuals provide gardeners with unparalleled flexibility due to their relatively short life cycle. Unlike perennials, which return year after year, annuals complete their lifecycle within a single growing season. This characteristic allows you to experiment with different color schemes, layouts, and designs each year, keeping your landscape fresh and exciting. Whether you wish to create stunning flowerbeds, charming borders, or vibrant container gardens, annuals offer the versatility to fulfill your creative visions.
Instant Impact
If you desire instant gratification and immediate impact in your landscape, annuals are the perfect choice. These fast-growing plants quickly establish themselves and start blooming within weeks of planting. Whether you're preparing for a special event, welcoming guests, or simply yearning for a burst of beauty, annuals deliver a swift and stunning transformation to your outdoor spaces.
Extended Blooming Period
Annuals are known for their long-lasting and prolific blooming periods, providing continuous beauty throughout the season. In Georgia's warm climate, certain annuals thrive and produce an abundance of blooms for an extended period. This sustained flowering ensures that your landscape remains vibrant and captivating from spring to fall, ensuring you have a picturesque garden to enjoy throughout the year.
Attracting Pollinators
Annuals play a vital role in attracting pollinators, such as butterflies, bees, and hummingbirds, to your yard. These beneficial creatures are essential for the pollination of plants and the overall health of the ecosystem. By incorporating pollinator-friendly annuals in your landscape, you not only create a visually appealing environment but also contribute to the preservation of these essential creatures and the biodiversity of your region.
Most Preferred Types of Annuals for a Georgia Landscape
When it comes to choosing the right annuals for your Georgia landscape, it's crucial to select varieties that thrive in the local climate. Here are some of the most preferred types of annuals that flourish in Georgia's warm and humid conditions:
Marigolds (Tagetes spp.): Known for their cheerful and vibrant blooms, marigolds are hardy annuals that thrive in Georgia's heat and humidity. They offer a wide range of colors and sizes, making them an excellent choice for borders, containers, or companion planting.
Zinnias (Zinnia spp.): Zinnias are prized for their dazzling array of colors and their ability to attract butterflies to the garden. These heat-tolerant annuals bloom profusely throughout the summer, adding a vibrant touch to any landscape.
Impatiens (Impatiens walleriana): With their vibrant blooms and ability to thrive in shade, impatiens are a popular choice for Georgia gardens. They add a splash of color to shady areas, making them perfect for flowerbeds and containers.
Pentas (Pentas lanceolata): Pentas, also known as Egyptian stars, are heat-tolerant annuals that produce clusters of star-shaped flowers. Their nectar-rich blooms are irresistible to butterflies and hummingbirds, making them an excellent choice for wildlife enthusiasts.
Schedule Your Seasonal Planting in Alpharetta!
Planting annuals in your Georgia landscape is a fantastic way to bring life, color, and charm to your outdoor spaces. From their vibrant colors and extended blooming periods to their ability to attract pollinators, annuals offer a multitude of benefits for any garden enthusiast. By letting our experts at Everlast Lawns & Landscapes incorporate some of the preferred annuals mentioned above, we can help create a stunning and ever-changing landscape that will be the envy of your neighborhood. Call our Alpharetta landscaping team today to get a free quote for seasonal planting in your yard.
Posted on behalf of Everlast Lawns and Landscapes, L.L.C.
4920 Atlanta Hwy Suite 301
Alpharetta, GA 30004
Phone: (770) 480-2695
Email: everlastlawns@aol.com
Monday – Friday: 8:00 AM – 5:00 PM
Saturday, Sunday: Closed