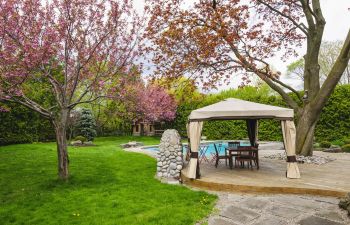 For most Georgians, warm weather activities such as lawn games with your kids or backyard cookouts with neighbors often comes at a price. While we love to spend longs days under the spring and summer sun, it is common to have mosquitoes try to steal your fun. Many homeowners invest in mosquito treatments each year to keep these pestering bugs away. However, there are other things you can do in your yard to deter mosquitos as the temperatures heat up outside.
#1 Eliminate Stagnant Water
Mosquitoes loves standing water. Evaluate your lawn carefully for areas in which stagnant water is present, including under toys and flowerpots, inside garbage cans and gutters or throughout your landscape due to improper drainage. Your first step is to get rid of these mosquito breeding grounds. Pools of water, even if they are small, always attract mosquitoes.
#2 Consider Natural Repellants
Did you know that there are certain plants that produce defensive chemicals to deter insects? However, most of these plant varieties (like Citronella) need to be damaged or harmed in order to trigger the release of these repellants.
#3 Protect Yourself
If you can't remove the mosquitos from your yard, there are things you can do to protect your skin while you play outside. A DEET-containing lotion or spray can be used on kids and adults to keep these biting insects away. In addition, consider wearing light colors since research has shown that mosquitos are attracted to dark colors. Don't forget to cover your feet too – as this part of your body often creates a sweaty and bacteria-ridden place for mosquitoes to breed.
#4 Light Up Your Space
Outdoor gatherings and cookouts can include bug-deterring luminaries to keep your guests more comfortable. Candles tend to work great. Consider candles that contains geraniol, as these tend to be long-lasting and more effective than citronella at repelling mosquitoes.
#5 Hire an Expert
If you are tired of failing at your attempts to keep mosquitoes away each season, let one of our landscaping experts help. We can give your lawn a professional inspection and determine the best action plan against these stubborn insects. We want your landscape to be a usable and enjoyable outdoor space – don't let mosquitoes stand in the way!
Contact Everlast Lawns today for an appointment!
Posted on behalf of Everlast Lawns and Landscapes, L.L.C.
4920 Atlanta Hwy Suite 301
Alpharetta, GA 30004
Phone: (770) 480-2695
Email: everlastlawns@aol.com
Monday – Friday: 8:00 AM – 5:00 PM
Saturday, Sunday: Closed