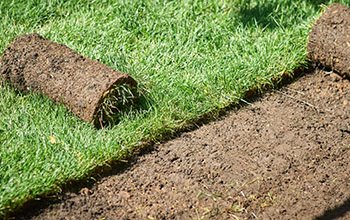 With the current cold temperatures outside, you may not be able to do much with your lawn right now. However, now is the perfect time to start planning for your spring landscape. If you are not confident in how your grass will revive this year, it may be best to consider sod installation. Sod installation is best performed in early spring, when cooler temperatures and occasional rain foster quick rooting. While new sod may be a notable investment, it offers remarkable returns towards your landscape appearance and enjoyment for years to come.
If you are debating whether to grow your own grass this year or plant new sod, consider these new sod advantages:
#1 Instant Results
. We live in an age of instant gratification. If you don't want to suffer through a muddy or patchy lawn while you wait weeks for your grass to sprout, consider installing sod. Once sod is laid, you can enjoy the immediate benefit of a beautiful turf.
#2 Less Expensive
. Compared to a seeded lawn, it is easy to assume that the upfront investment of sod makes it a more expensive turf. However, you'll save in time and money with sod when it comes weed control and extra fertilization that seeded grass often requires season after season.
#3 A Denser, More Useable Turf
. Since the grass plants are sown tightly together in sod, it can produce a lawn that is much denser and lush compared to seeded grass. When choosing Zoysia, your lawn can even feel like carpet. This soft, dense and more water-resistant turf can become the perfect outdoor extension of your home for your family and friends to enjoy.
#4 Natural Erosion Control
. Is your property on a hill? Well-laid sod can help prevent the gradual migration and loss of topsoil that often occurs down the slope. Sod is known to limit rain runoff and other drainage issues that can occur in bare soil.
#5 Boost Curb Appeal
. The appearance of your lawn can be a primary influence in how your entire home and property is perceived. Beautiful and seamless sod can makeover your landscape and give you quick bragging rights among the neighbors.
To learn more about sod installation or to understand which type of sod is best for your landscape, please call the experts of Everlast Lawns and Landscapes. We take pride in our meticulous installation of a wide variety of sod.
Posted on behalf of Everlast Lawns and Landscapes, L.L.C.
4920 Atlanta Hwy Suite 301
Alpharetta, GA 30004
Phone: (770) 480-2695
Email: everlastlawns@aol.com
Monday – Friday: 8:00 AM – 5:00 PM
Saturday, Sunday: Closed