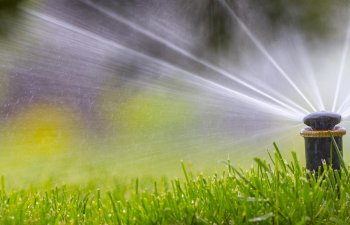 If you want a healthy and vibrant landscape, proper irrigation is non-negotiable. Unfortunately, even the highest quality sprinkler systems break down or malfunction over time. While you can't always prevent wear and tear to your irrigation system, you can recognize when it needs repair. How is your irrigation system holding up?
Identifying the following warning signs can ensure you schedule your sprinkler repair before your landscape suffers.
#1 Sputtering Sprinklers
Pay attention to the stream of water coming from your sprinkler heads. It is sputtering in place or spraying off-course? This can indicate damage or clogging at the head of your sprinkler, but it can also be a sign that your pressure settings need adjustment.
#2 Leaking Control Valves
The control valves are designed to regulate the water supply for your sprinkler system. If the valves are persistently dripping water, your irrigation system needs attention and repair.
#3 Lingering Puddles
While wet patches or small puddles of water are expected after your irrigation system has just been on, if you notice that these saturated areas in your yard are lasting for several days, you may have a faulty sprinkler head or a stubborn leak in your irrigation system.
#4 Water Pressure Issues
When water pressure is low or constantly changing, it can wreak havoc on your irrigation system. Changing water pressure can be a result of worn out irrigation system parts, but this issue can certainly lead to more damage throughout your system if not addressed promptly.
#5 High Water Bills
Keep track of your monthly water bills. A sudden skyrocket in expense can be rooted in a malfunctioning irrigation system. There are a number of issues that can cause your sprinkler system to use more water than necessary or leak persistently.
Need Affordable Sprinkler Repair?
If you are concerned about the efficiency or function of your irrigation system, don't wait until your lawn shows signs of over-saturation or extreme thirst. Call the experts of Everlast Lawns and Landscapes. We can fix most irrigation systems or replace them with a new system if needed. We only use top quality parts and guarantee all our work. Our irrigation specialists can ensure your lawn and gardens get the water they need to thrive this summer!
Posted on behalf of Everlast Lawns and Landscapes, L.L.C.
4920 Atlanta Hwy Suite 301
Alpharetta, GA 30004
Phone: (770) 480-2695
Email: everlastlawns@aol.com
Monday – Friday: 8:00 AM – 5:00 PM
Saturday, Sunday: Closed