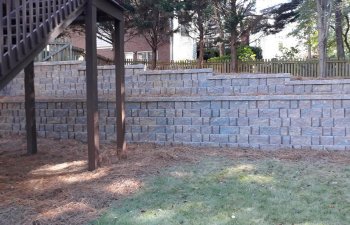 Not all properties are perfectly flat. In fact, some Georgia neighborhoods can be quite hilly and steep. For such elevations, a retaining wall may be suggested. While you may consider a retaining wall as a necessary component of your home's construction, this unique hardscape is equally important to your landscape. Retaining walls can be used to provide both functional and aesthetic benefits to your home as well as your landscape. In fact, when designed by a skilled landscaping expert, your retaining wall can be a vital part of keeping your lawn healthy while seamlessly blending in or even complimenting your landscape vision.
The Problem With a Slope
If your home was built on a sloped or steep area of land, you are at risk for issues created from rainfall. Improper drainage and erosion can wreak havoc on your landscape health as well as pose a risk to your home's foundation. A retaining wall can be a valued solution. Retaining walls come in all heights and depths. Depending on whether you want to disguise your retaining wall or make a statement of style, your retaining wall can be constructed with various materials, including dark timbers, natural stones and more. Each type of retaining wall offers pros and cons in terms of longevity, aesthetics and cost.
What Can a Retaining Wall Do For You?
If you are unsure you need a retaining wall on your property or simply need more assurance you are doing the right thing, you should understand what this structural addition can do for your property. Here are some top reasons why customers install a retaining wall:
#1 Stop Soil Erosion
Erosion is a primary concern for steep properties. Due to the angle of the land, gravity and water can force your soil to slide down and slowly migrate into unwanted areas of your yard. A retaining wall can reduce the angle of the slope as well as hold the soil in place so that destructive erosion doesn't occur.
#2 Add Useable Space
Compared to a flat yard, a vertical terrain can be very difficult to use and enjoy. By installing a retaining wall, however, an area of flat useable space can be created. This allows property owners to create special seating areas, construct play yards and even plant gardens on land that would otherwise be rendered inept.
#3 Avoid Flooding
If your home is built on a slope that is near a lake or other body of water, flooding can be a real concern. A retaining wall can be used as an effective means to control the flow of heavy rainfall and prevent the costly damage that comes from flooding.
#4 Protect Your Home
Erosion, poor drainage and flooding are not just threats to your landscape. These are rainfall consequences that can also damage the foundation of your home. To protect the structural integrity of your home over time, a retaining wall can help prevent an uphill foundation from being compacted from erosion or damaged by excess water.
To learn more about how your property can benefit from a retaining wall, call Everlast Lawns and Landscapes. We offer an expansive range of retaining wall designs and materials to fit your needs, budget and style!
Posted on behalf of Everlast Lawns and Landscapes, L.L.C.
4920 Atlanta Hwy Suite 301
Alpharetta, GA 30004
Phone: (770) 480-2695
Email: everlastlawns@aol.com
Monday – Friday: 8:00 AM – 5:00 PM
Saturday, Sunday: Closed