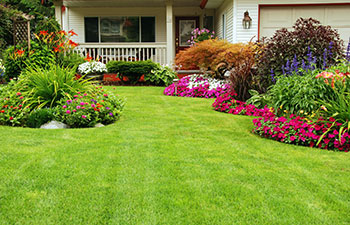 Your lawn is a crucial component for creating a great first impression and boosting your property value. You may not have the time or the skills to take care of your lawn properly yourself. A professional lawn care service can save you time and money in creating a healthy and beautiful lawn. Here are four benefits of hiring a professional lawn care service.
#1 Prevent Accidental Lawn Care Damage
Many homeowners admit to not knowing the basics of lawn care, such as how often to water or how to prevent disease. A professional lawn care service has the knowledge and experience to prevent common lawn care hazards.
#2 Save Yourself from Physical Injury and Exhaustion
Lawn care can be hard work, resulting in sore muscles and exhaustion. Physical injuries can occur from equipment and improper use of lawn chemicals and sprays. If you have mobility issues, you may strongly want to consider using professional lawn care services.
#3 More Cost Effective
Professional lawn care services can be more cost effective than trying to do it on your own. These companies already have all the equipment and products needed to properly care for your lawn. Hiring a professional lawn care service can save you money from correcting mistakes by store-bought products that may damage your lawn.
#4 Consistent Care
It may be hard for you to keep up with lawn care on a consistent basis. A professional lawn care service can show up weekly to ensure your lawn stays healthy. You can also get more tasks done at once.
Alpharetta Professional Lawn Care You Can Trust
If you need lawn care help in Alpharetta, call Everlast Lawns and Landscapes, LLC. We offer a comprehensive range of services such as weed control, fertilization and disease control.
Posted on behalf of Everlast Lawns and Landscapes, L.L.C.
4920 Atlanta Hwy Suite 301
Alpharetta, GA 30004
Phone: (770) 480-2695
Email: everlastlawns@aol.com
Monday – Friday: 8:00 AM – 5:00 PM
Saturday, Sunday: Closed