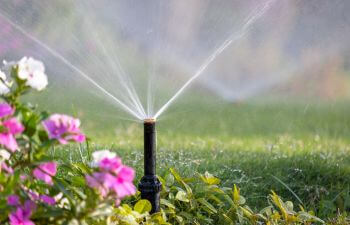 If you've live in the Atlanta area, you know that the summertime heat is nothing to dismiss. With average daily temperatures in the high 80s and 90s, summer in Georgia can be a scorcher. While you can personally find some shade, a pool or indoor air conditioning to get relief from the heat, your plants are not as fortunate.
The relentless heat doesn't mean your landscape is doomed to suffocate. However, it does make it more important than ever to water your landscaping efficiently. This should include conserving water when possible and making sure your watering efforts are maximized and not wasted.
At Everlast Lawns and Landscapes, here are the top three watering suggestions we give Georgians in the summer:
#1 Only water when needed
Did you know that more plants are killed by overwatering rather than under watering. This isn't to say your plants won't need extra moisture under the summer sun, but a good soak once a week may be all that is needed. Learn how to check your soil for dryness before you turn on your hose or sprinkler system.
#2 Water in the morning
If you water your landscape before the sizzling sun makes its debut, you can maximize your irrigation efforts. Morning watering prevents wasted water from evaporation as well as allows your lawn enough time to absorb the water before the temperature drops again at night. A lawn that stays wet during the night is more vulnerable to fungus and disease.
#3 Water the roots, not the leaves
Not only is it important to know how much and when to water, but you should also understand how to water. The simple technique of watering your roots instead of the leaves of your plants can make your watering task more helpful than harmful.
Do you have more questions about how to quench your landscape during in "Hotlanta"? We can help. Call Everlast Lawns and Landscapes today. We proudly serve the Alpharetta and surrounding Atlanta communities with excellence in irrigation and year-round lawn care.
Posted on behalf of Everlast Lawns and Landscapes, L.L.C.
4920 Atlanta Hwy Suite 301
Alpharetta, GA 30004
Phone: (770) 480-2695
Email: everlastlawns@aol.com
Monday – Friday: 8:00 AM – 5:00 PM
Saturday, Sunday: Closed