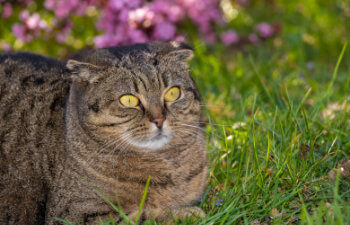 At Everlast Lawns and Landscapes, we know how much families value their pets. Even if you own indoor pets, it is important to also maintain a safe outdoor environment for favorite four-legged friends. Our lawn care experts understand how to create an attractive landscape without posing threats to your dogs, cats and other pets. Here are some considerations that we can make to ensure your family pet stays safe and healthy in your own backyard:
Avoid using chemical fertilizers and pesticides on your lawn
These chemicals can be toxic to pets if ingested or absorbed through the skin. Instead, consider using natural alternatives or limiting your pet's exposure to treated areas.
Keep your pet off the lawn after treatments
If you must use chemical treatments on your lawn, keep your pet off the grass until it has dried and the area is safe for them to play on.
Provide plenty of fresh water
Pets can become dehydrated when playing outside on hot days, so make sure they have access to plenty of fresh water at all times.
Check for poisonous plants
Some common plants, such as lilies and daffodils, can be toxic to pets if ingested. Check your lawn and garden for poisonous plants and remove them if necessary.
Avoid using cocoa bean mulch
This type of mulch can be toxic to pets if ingested, so consider using a safer alternative, such as shredded wood or pine needles.
Clean up after your pet
Regularly clean up pet waste from your lawn to prevent the spread of disease and parasites.
Check for hazards before letting your pet play outside
Remove any sharp objects, such as broken glass or nails, from your lawn before allowing your pet to play outside.
Provide shade
Make sure your pet has access to shaded areas where they can escape from the sun on hot days.
Check for pests
Regularly check your pet for ticks, fleas, and other pests that can be found in your lawn, especially during warmer months. Use preventative measures to keep them at bay, such as flea and tick collars or topical treatments.
Want to make sure your lawn doesn't have hidden dangers for your pet? We can help. Call Everlast Lawns and Landscapes to learn more about our lawn maintenance programs that are tailored to each individual customer – including those that have kids and pets!
Posted on behalf of Everlast Lawns and Landscapes, L.L.C.
4920 Atlanta Hwy Suite 301
Alpharetta, GA 30004
Phone: (770) 480-2695
Email: everlastlawns@aol.com
Monday – Friday: 8:00 AM – 5:00 PM
Saturday, Sunday: Closed